Archive for February, 2006
---
Charlie Bird the little rascal…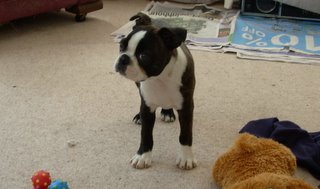 Roseneath, Wellington, Tuesday, February 28th, 2006
Been listening to Ricky Gervais' podcast series. Very funny.
Have been having my own New Zealand film week. Watched Geoff Murphy's "The Quiet Earth" and "Goodbye Pork Pie". Have also lined up "Smash Palace" and "Utu", and will probably go to "River Queen" this weekend.
, Wednesday, February 15th, 2006
Desktop Linux is great. I've discovered KMail and Kontact which so far seems to be a little nicer to use than Evolution. Still having a few issues with sound which is a bummer as I love the interface on amaroK and can't wait to start using it properly.
The other day I upgraded the old IBM Netfinity with a 250GB hard drive. Had no major issues changing over the home partition. Picked up a printer on Trademe for a fiver, and got that installed and set up with CUPS in no time. Can now print from anywhere around the house (or garden) thanks to that and the wireless network.
Roseneath, Wellington, Wednesday, February 15th, 2006