What does this picture say?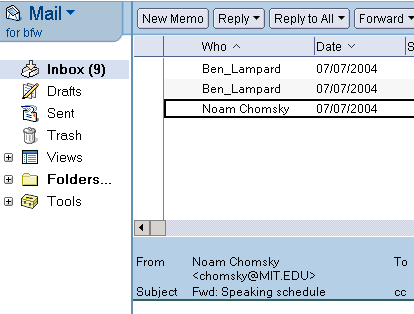 a) Lotus Notes is cool. Look at this email app interface. It is cool. AND it's
in the ever so slightly antiquated version 6.
OR
b) File-Maker Pro apps can REALLY suck. S U C K. We just got one at work. Could be sloppy programming; I don't know for sure, but when you can't tab between fields (because the 'tab' key closes a window or something ludicrous) Notes/Domino quirks seem like award winning advances in GUI design.
OR
c)Noam Chomsky emailed me! Check out the 'Who' column. Well, HE didn't email me, one of his assistants did. But hey – it puts a smile on my dial!